104ingénierie brings together the unique expertise of the CENTQUATRE-PARIS in the cultural, artistic, urban planning and territorial fields to accompany you, in its role supporting contracting authorities and project management.
Our methodology is based on the concept of cultural urbanism and allows us to accompany public and private operators (institutions, public establishments, local authorities, real estate developers, architects, businesses, foundations) in the design and imagination of innovating cultural and artistic projects. As an expert in the creation of ecosystems that favour the hybridisation of multidisciplinary activities, 104ingénierie offers strategic, artistic, programmatic and technical recommendations for urban and architectural cultural projects.
Our projects
Our skills
Supporting, transforming, prefiguring
Studies of urban and cultural programming: defining the identity of a project and proposing a concept, diagnostics, positioning strategies, opportunity analysis and technical, economic and governance feasibility, etc.
Operational support in the development of artistic and cultural venues, temporary or perennial third places: prefiguration studies, operator consultancy organisation, sponsor research, support for the implementation of projects, etc.
Advice in the development of cultural and public policy strategies, training and experience sharing with local authorities and cultural institutions in the management of complex cultural facilities.
Creating, producing, activating
Creation and production of innovating cultural and artistic programmes: large events, festivals, artworks in the public space, participative workshops, exhibitions, artistic tours in the urban space, etc.
Creation and implementation of temporary activation devices, accompanying construction sites or urban projects, with local authorities, inhabitants and artists.
Artistic direction and coordination: analysis of technical and economic feasibility of artistic events, identification and connection with artists, defining a concept and programme, launch of project tenders.
Our team
Our permanent team
Our experts
Our collaborators
104ingénierie team calls upon all the skills and expertise of the CENTQUATRE-PARIS team.
Thank you to all our former collaborators: Amaury Bech, Victoire Bech, Elsa Bellanger, Marco Carvalho, Clara Chalou, Solène Clappe-Corfa, Pierre Colomer, Manon Darphin, Clara Favriou, Justin Felix, Pauline Ferrière, Xavier Friolet, Sophie Galzy, Sophie Gaonac'h, Christophe Gualde, Simon Henry, Camille Leddet, Juliette Lytovchenko, Coralie le Falher, Anaïs Pinot-Gaucher, Lucie Robert, Marine Schwob, Valérie Senghor, Sandra Sturt, Benoît Thérèse, Lucas Vionnet...


Our clients
Contact us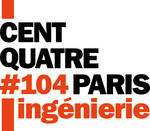 Réseaux sociaux
Nos dernières actualités sur nos activités, partout où vous êtes, avec @104ingenierie !
Newsletter
Nos projets, nos actus, nos coups de cœurs, 3 fois dans l'année dans votre boîte mail.