homepage > the CENTQUATRE-PARIS > family awakening to art > the Littlies' House
An artistic space welcoming children and parents
Inspired by Françoise Dolto's Maison Verte [Green House], the Littlies' House welcomes children (from their birth up to the age of five) and their parents. It offers everyone a space for play, exchanges, sharing, listening, in an originally-designed area thought up by the artist Matali Crasset.



Opening hours *
Tuesday > Sunday: 2:30 p.m. - 6 p.m.
(last entrance at 5:30 p.m.)
closed on Mondays
* free and confidential welcome, no reservation required, in the limit of 30 places avalaible
A space for the imagination
The welcome of families around art is the reason for being of the Littlies' House. It's an encouragement in itself of discovery and creativity, as much thanks to the design of the space as to the selection of objects and materials available. Its original design, imagined by the artist Matali Crasset, shows its artistic vocation from the start. It's a peaceful area, filled with art where children and parents are encouraged to discover, through games, their creative capabilities, and to approach a new way of being together. Immersion in an artistic and cultural environment invites us to develop inventive and shared experiences and enables us to take hold of a constantly renewed world.
The Littlies' House on a daily basis
In this original space for sharing, children and parents play freely, read, paint, draw, dream, exchange with other families and the team.

On a daily basis, you can:
relax with your child in a calm area, remarkable by its design,
share with your child a time with books and games selected for their aesthetic qualities, their originality and their creative potential,
benefit from the listening and the support of professionals when a specific question in the parent-child relationship comes up,
be informed and be accompanied in the artistic proposals of the CENTQUATRE-PARIS.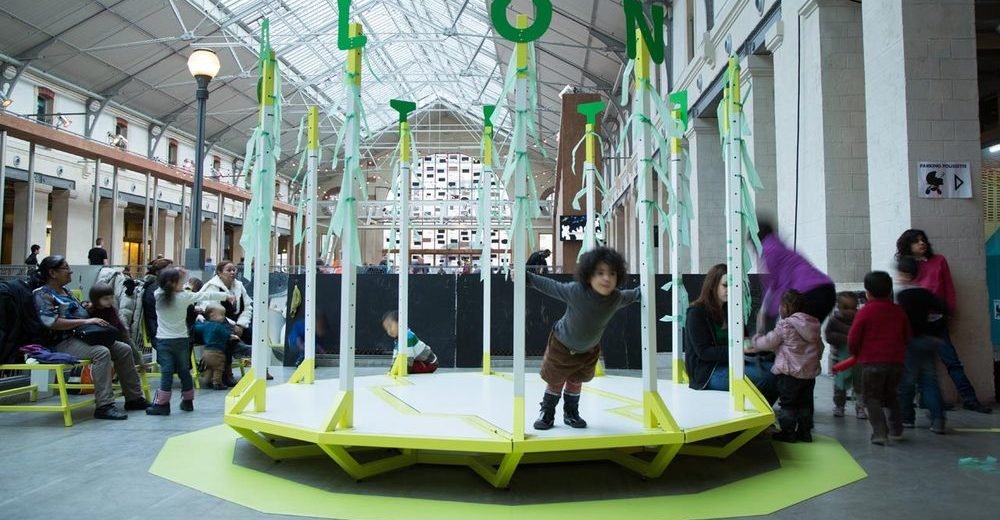 The Little Salon
Designed by Matali Crasset, the Little Salon allows families to wait comfortably, before being invited to enter into the Littlies' House. Not quite outside, not quite inside, the dynamic design appeals to each and everyone's imagination.
The little guestbook

«It's a rare area in Paris. Our child loves it and we are happy to watch her play and to be able to play with her. We hope that the same sort of spaces will bloom! Particularly for stay-at-home mothers!»

Mathilda

«Beautiful place, great team, I'll be back!»
Javier

«The Littlies' House is a wonderful and surprising place, where children can express themselves freely and create in total freedom. It is rare to find in Paris places that are as accessible to babies, it's a real breath of fresh air that you have given us. Thank you!»
Zhour

«A beautiful and welcoming space for listening and sharing!»
Inès



Artwork created by matali crasset