News feed
You will be invited to present your Covid pass when you enter CENTQUATRE-PARIS.
Masks must be worn in all enclosed areas of the venue.

Le CENTQUATRE-PARIS
5 rue Curial - 75019 Paris - FRANCE

Riquet


Crimée, Curial


Rosa Parks
ticket office: +33 (0)1 53 35 50 00 / billetterie.104.fr
administration : +33 (0)1 53 35 50 01
contact form
Opening hours of the CENTQUATRE-PARIS
SUMMER CLOSURE : The CENTQUATRE-PARIS will be closed from August 9 to August 23.
Tuesday: 12pm-7pm

Wednesday :

12pm-7pm



Thursday:

12pm-7pm



Friday:

12pm-7pm



Saturday:

11am-7pm



Sunday:

11am-7pm



Monday: closed

Getting to CENTQUATRE-PARIS
Located only an 8-minute walk from the CENTQUATRE-PARIS (entrance at rue Curial), the Rosa Parks station has been open since 13 December 2015.
RER (line E)
Tram (line T3)
Riquet (line 7)
Stalingrad (lines 2, 5 and 7)
Marx Dormoy (line 12)
Riquet stop (line 54)
Riquet or Curial/Archereau stops (line 45, "La Traverse" shuttle)
rue Curial
rue d'Aubervilliers
rue Riquet
rue de Tanger
avenue de Flandre
quai de la Seine
Accessibility
Our commitments
As a living area open to all, the CENTQUATRE-PARIS is committed to cultural access for all publics, namely people in a situation of handicap or autonomy loss.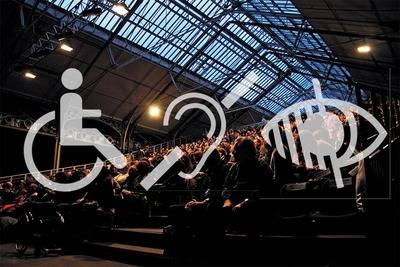 Ticket office, rates

Interesting to know, for an easy buy
- the tickets and subscriptions are individual and nominative
- they cannot be returned, exchanged or refunded
- for beneficiaries of a discount rate, a supporting document can be asked for access to the show
- depending on the layout, access to the room may be refused to latecomers
General Sales Conditions (in French) Access the online ticket office
Discount rate:
under 30 years of age, over 65 years of age, job-seekers, persons with government-guaranteed minimums, artists (Maison des Artistes, AGESSA, SACD), large families, persons in a situation of handicap with a guide, teachers, personnel of the City of Paris, groups of more than 10 people.
Rates for children under 15 years of age:
a rate for children under the age of 15 is proposed for certain events.
Member rate:
subscribers, PASS 104 members, PASS jeune (students and under 30 years of age).
Group rate:
among friends, family or as part of a specific group (schools, non-profit organisations, tourist tours), you can benefit from advantageous rates.
---
exhibitions
Family offer (only at the ticket office): from 7 € for 3 people (minimum 1 adult, maximum 2 adults), then 2 € extra a ticket for more than 3 people.


---
Contact
The recorded information is subject to digital processing in a commercial prospect and for visitor loyalty programmes of the CENTQUATRE-PARIS. According to the Law of Data Protection of 6 January 1978; amended in 2004, you have the right to access, rectify, modify, delete and oppose all data concerning you. To use this right, contact us at contact@104.fr.